"When you learn to do things right, everything comes together, especially in Pilates."
Joyce Fukumoto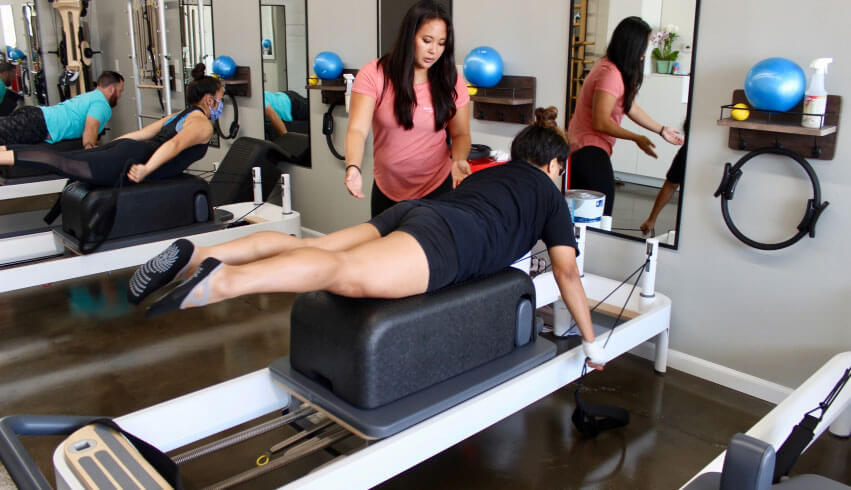 Pilates Effects is a dedicated Pilates studio offering individual and small group "Classical" Pilates classes to clients of all fitness levels. Located on the corner of Anza and PCH, in the VillageTorrance Shopping Center.  We are easily accessible from Redondo Beach, Torrance, Palos Verdes, Lomita and Harbor City, yet clients come from all over the South Bay to get our expert instruction and coaching.
Serious Fun. Real Results.
Studio owner Joyce Fukumoto was first introduced to Pilates by her chiropractor in 2000. He knew Pilates would improve her balance, mobility, strength, and stamina. And it did. But after having hip replacement surgery, Joyce needed Pilates even more. It was at that time decided that to understand how to get the results she wanted, she would have to learn more. She took the instructors training and fell in love.
Clients truly appreciate Joyce's no-nonsense approach, combined with her authentic sense of humor.
"My goal in life is to be able to keep moving… to get up from the ground carrying something unassisted and put it on a shelf above my head for the rest of my life. I am here to help my clients reach their fitness goals too."      -Joyce Fukumoto
Studio, Equipment, and Classes
Our studio has 6 Balance Body Allegro 2 Reformers as well as CoreAlign® and Gyrotonic® units.
Group Classes are taught throughout the week and limited to 6 clients per session. We offer specific level classes as well as "mixed-level" sessions for all of our clients.
Our "Level Up" classes are offered once a week specifically for students who need help on a particular move or ability so that they can advance to the next level.
We also offer Privates for those who are looking for one-on-one attention.